SAFETY FOR ALL, HEALTHY SEWAGE IN HK BUILDINGS
(5th Meeting, Joint Webinar/Seminar with THEI)
Date :

24 September 2021 (Fri)
Time :

7:00 pm – 9:00 pm
Webinar: 
ZOOM link will be provided for successful applicants
Seminar (for THEi students): 
LT5, Technological and Higher Education Institute of Hong Kong (THEi) Tsing Yi Campus, 20A Tsing Yi Island NT 
Charges:

Free for webinar session; HK$50 for issuing CPD certificate

(THEi CPD certificate (not eligible for WSD CPD scheme) will be exclusively provided to THEi student participants who attend the event physically.)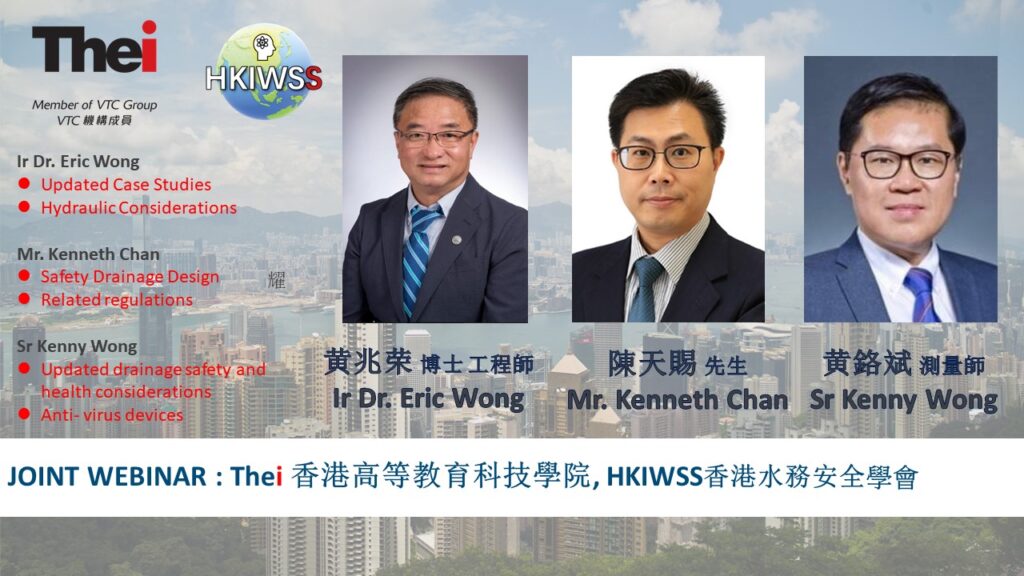 Programme Highlights:
– Updated situation of COVID19 in Hong Kong
– Introduce with analytic approach for the virus spreading cases in building sewage systems.
– Updated building sewage practices and regulations discussion
– Suggest tentative methods for sanitation water safety in buildings. wash room and toilet.
– Q & A
Speakers:
Ir Dr. Eric Wong
Sr Kenny Wong
Mr. Kenneth Chan
Ir Dr. Eric Wong (Adjunct Professor of THEi 2018-2020), Mr. Kenneth Chan and Sr Kenny Wong. All of them are Education, Technology and Promotion working group members of HKIWSS and past chairmen of CIPHE-HKB. This event is the 5th meeting for "Safety for all in Building Sewage System" which will be conducted by the speakers.
Content:
The COVID-1 9 pandemic is widely outbreaking and spreading in Hong Kong buildings. Many of them are related to drainage system of the residential buildings. The outbreak of the coronavirus confirmed to be present in air and human excrement. Apart from the need for good understanding of drainage network not only in related to legislative regulations, but also the path of virus infection principles by analytic cases. Suggestions will be provided and discussed for new works and maintenance projects in the drainage systems. It is an urgent need for knowing of healthy sewage systems/ toilets /bathrooms in order to achieve the maximum level of hygiene and reduction the risk of cross contamination and virus infection.
Space:

90 (first-come-first-serve)
Language:

Cantonese with Materials in English (no hard copy will be distributed)
Fee:

Free of Charge for attending webinar only
CPD certificate:

On request, $50 per certificate including handling an mailing expenses.
Certificate:
2 hours CPD certificate will be issued to participants after the event and it will be mailed or can be collected at HKIWSS
請提供閣下水喉匠牌號碼, 用於學會向課程委員會申報. 詳情可看以下水務處
http://www.wsd.gov.hk/tc/plumbing-engineering/voluntary-continuing-professional-development-sche/accreditation/index.html
持續進修活動代號: C1-A009-20210824
Note for Registration:
1. Duly completed application forms accompanied by payment receipt (if applicable) together, email to [email protected]
2. An official receipt (for CPD handling fee) will be distributed to the registrant only and mail with CPD certificate.
3. The seminar will be cancelled when the typhoon signal No. 8 or above, or black storm warning is hoisted 3 hours before the seminar commences.
4. Information provided will be kept strictly confidential and will not be sold, reused, rented, loaned, or disclosed to third party.
Payment Method:
Payment should be made to "Hong Kong Institute of Water and Sanitation Safety". Or deposit at "HSBC" Account No. 149-657132-838. Please email / WhatsApp bank receipt (marked with your name) to [email protected] / HKIWSS WhatsApp 91989325